Nana's Apple Crisp 16oz Jar
Sale price Price $29.99 Regular price Unit price / per
You will smell hints of: Apples | Cinnamon | Sugar | Butter
Our Nana's Apple Crisp is named after Katie's Grandmother who made THE BEST apple crisp. She always made it with a little more butter and sugar than her recipe called for. If a half cup was good, a full cup was even better. There was no better smell than her kitchen filled with warm apples, spices, sugar, and butter baking altogether. This candle captures that same deliciousness without the work or the calories. You might want to follow Nana's rule of thumb... one candle would be good but two would be even better. 
Every Milkglass candle is committed to clean:
100% Soy wax means you won't have carcinogens in the air
Phthalate-free fragrance oils because cleaner is better
All-natural double-braided cotton wicks

 

give over 72 hours of clean burning
At Milkglass Candle, your purchase funds grants

 

that help bring children home through the gift of adoption. So fill your home with the products you love and help bring one more child home, at last.
Customer Reviews
12/27/2021
Laura

United States
Perfect Warm + Cozy Smell
This is perfect for Fall or any night where you just want to snuggle up on the couch. The apple, cinnamon, sugar smell is perfectly warm + cozy. Love it!
12/29/2021
Milkglass candle
Thanks, Laura! We think Nana would be proud of the way this Apple Crisp candle captures her beloved recipe! So glad you're enjoying it!
10/19/2021
Kenzie G.

United States
Smells amazing!
I love these candles. The scents are amazing and you can enjoy them without having the added toxins. So good!
10/19/2021
Milkglass candle
Thanks Kenzie! We appreciate your love for our candles and how clean they are!
09/23/2021
Erin S.

United States
Phenomenal!
The smell is wonderful and I love the design. The fact that each purchase helps such an amazing cause makes it that much better! Will be getting everyone one for Christmas this year!!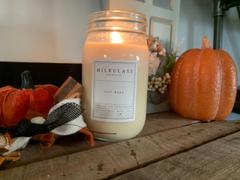 09/23/2021
Milkglass candle
Erin, thanks so much! We're so glad you love your Nana's Apple Crisp candle. We happen to think candles make great gifts!
09/20/2021
Whitney L.

United States
Never Received Items
I was asked to provide a review of my purchase, however I have never received what I ordered. I don't know what is going on with the money I spent.
09/20/2021
Milkglass candle
Hi Whitney, it looks like your order was delivered to your door today at 12:26pm according to USPS tracking. A member of our team has reached out to you in case you need further assistance.
08/23/2021
Rebekah M.

United States
Great Candles!!
We loved the Fall Sample Pack! Our favorite scents were Nana's Apple Crisp and the Fall one. Looking forward to ordering the larger size!
08/23/2021
Milkglass candle
Awesome! Thanks Rebekah! Glad you love them!